An independent pharmacy, supporting Glasgow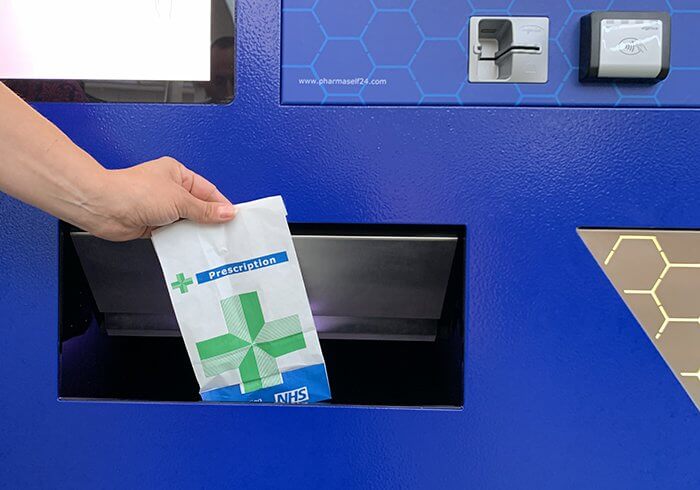 Pharmaself24 – 24hr Prescription Collection
Are you fed up with queueing for your prescription?
Do you struggle to reach a pharmacy during opening times?
Are you worried about social distancing in stores?
Muirend Pharmacy is excited to offer a solution to these problems with our new Pharmaself24 prescription collection point service.
What is Pharmaself24?
Pharmaself24 is a 24-hour prescription collection system. The system is located on the outside of our store and looks similar to a cash machine. The Pharmaself24 collection process is simple and time-saving:
When your prescription is ready, we load it into the Pharmaself24 collection point. The collection point is secure and tamper-proof. 
Then, you'll receive an automated notification, either via email or text, letting you know your prescription is ready for collection. 
All you have to do is collect your meds when it's convenient for you by using your six-digit PIN code you've been given. You can also pay any prescription charges at the collection point using cash, card or contactless payments methods.
No more waiting in-store or having to queue for your prescription.
How can I use Pharmaself24 for my prescription?
Signing up with Muirend Pharmacy gives you access to all our services. 
After registering with Muirend Pharmacy's prescriptions services, you'll be able to choose Pharmaself24 option.
You can also set up our online repeat prescription ordering making it even easier to automate your medications.
Choose Muirend Pharmacy for modern prescription services
Choosing Muirend Pharmacy will make getting your meds hassle-free by:
– Sending you text or email reminders when you need to order your repeat prescriptions.
– Letting you order your repeat prescriptions online – whenever and wherever you want.
– Giving you prescription status updates so you don't have to call us.
– Sending you notifications when your meds are ready to collect.
– 24-hour prescription collection service using our Pharmaself24 collection system.
Muirend Pharmacy is a modern prescribing pharmacy that embraces the many ways to make accessing our services more convenient for you. Plus, we love using innovative technology that is improving how we all access healthcare.
Register online today and make getting prescriptions better.
Happy Customers
What our customers say
"Best pharmacy bar none, nothing is a problem."
"Excellent professional and attentive staff, the way your local community pharmacy should be!"
"The friendly, always obliging staff and James is so easy to talk to."
Latest News
News and updates from us